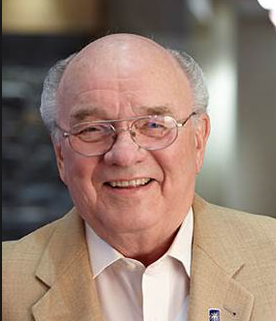 Daryl Yost is a native of southwestern Ohio. He is the second of five children. He has a BS in sociology and English from Manchester College (University) – 1958, an MA in counseling from Ball State University – 1962 and an EdD in educational leadership from Ball State University – 1969.
He worked in public education from 1958-82 – teacher, building administrator and superintendent.
He worked in private higher education – Taylor University – 1983-2006 – interim President, Vice President for University Advancement and Provost/Executive Vice President.
Selection of Boards affiliated with in recent years: Visiting Nurse/Hospice, Stop Child and Abuse (SCAN), Turnstone, Ft. Wayne Philharmonic, PFW Chancellor's Community Advisory Board, Indiana Commission on Judicial Appointments and Qualifications – 2004-08, Indiana's State Ethics Commission – 2008-17, Board of Advisors – Ball State University's Teachers College – 2014-present. Fort Wayne Zoo.
Wife is deceased. Three married children. Ten (10) grandchildren and one (1) foster granddaughter.